Walking Path Washing To Add To Your Curb Appeal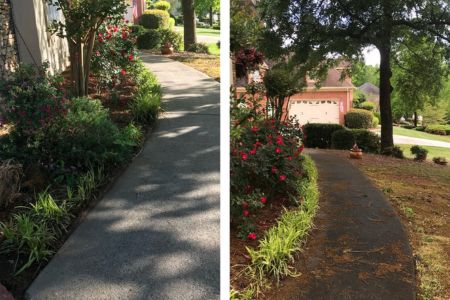 Walking Path Washing and sidewalk cleaning services are a great way to add curb appeal to your home. If you have a concrete walkway, you can use our pressure washing services to keep it looking fresh and clean.
Our team is skilled in the art of pressure washing, which means we know how to get rid of those unsightly stains on your walking paths and sidewalks without damaging them or harming any plants or grass nearby. Our high-powered cleaning equipment will leave behind a beautifully clean surface with no residue or chemical smell.
Our mission is to provide the best and most professional solutions for our clients. We are committed to helping you with all your needs, no matter what type of surface is in need of cleaning. CK1 Pressure Washing uses the most advanced technology in the industry that helps us do the job faster, better, and safer!
If you want more information about how we can help you with your sidewalk cleaning needs, please give us a call at 404-787-8833.
Commercial Sidewalk Washing: Helping Businesses
CK1 Pressure Washing offers sidewalk washing services to boost your business's curb appeal starting right at the curb! We can take care of all your commercial property's concrete surfaces, removing gum marks, set-in stains, and accumulated dirt or debris to effectively restore their appearance and condition.
Sidewalk cleaning also reduces the risks of potential slips and falls for the front of your business. When algae accumulate on cement surfaces, it can become increasingly slippery. Having your sidewalks regularly pressure wash reduces the build-up of algae and mildew, creating better traction for a safe, slip-free surface.
Walking Path Pressure Washing For Your Property
If you're in the market for a reliable sidewalk and walkway cleaning for your McDonough home, then you come to the right place. We can remove stains and substances from your outdoor pathways to restore and refresh the overall look of your concrete. Your outdoor walkways are subject to heavy foot traffic and can become easily stained. Our sidewalk cleaning service is a fantastic way to instantly boost your curb appeal.
Sidewalk cleaning not only improves the appearance of your home, but clean sidewalks are safer for you and your community. If you have concrete that has contaminants like mold, mildew, or algae, these are all risks to your health. These substances, along with many others, can create unsafe and slippery surfaces. By maintaining clean sidewalks and walkways, you decrease the risk of slips and falls. Call our team of professionals today and take the first step towards a cleaner and safer home.
Walkway Pressure Washing
Our climate can foster for mold and algae growth, and you need pressure washing for McDonough area homes and businesses to prevent too much development and resulting damage. We offer walkway washing and sidewalk cleaning to help you keep your property safe, clean, and in tip-top shape.
Our cleaning services help by offering benefits like:
Remove slippery contaminants like algae to prevent slip-and-fall accidents
Prevent lingering germs and bacteria from getting tracked inside your home
Help reduce repair issues from weed overgrowth
Maximize the longevity and get peak performance from your walkways
Increase curb appeal and property value
Whether your walkways are for your personal use or available for the general public as well, safety and cleanliness should be a top priority. Plus, regular professional cleaning will help restore the look and prevent stains from accumulating. We'll keep your pathways in tip-top condition.
A Trusted Sidewalk Cleaning Professional For Your Property
At CK1 Pressure Washing, our mission is to be the sidewalk cleaning professional in McDonough who sets the standard for quality industry-wide. We strive to have a positive impact on our McDonough community, and we truly, deeply care about our customers and their properties.
We have multiple processes and organized quality control systems in place to ensure your complete satisfaction with our pressure washing specialists. From the initial contact to the final virtual walk-thru, it's easy to see why CK1 Pressure Washing is the pressure washer your friends and neighbors in the McDonough area trust to care for their homes and businesses.
Request services for your home or business by calling us today at 404-787-8833 or using our online form to request a free quote.
Sidewalk Cleaning To Care For Your Walkways
Curb appeal starts with a clean sidewalk. No matter how long you've lived in your McDonough home, it's never too late to give it a sprucing up with a sidewalk cleaning service. For all of your residential and commercial pressure washing needs, turn to CK1 Pressure Washing! We're the #1 rated pressure washing for McDonough specialists, and for very good reasons.
At CK1 Pressure Washing, we keep ourselves updated on new pressure washing techniques, so we're never out of the loop. We also use cleaners that are safe for your home and the surrounding environment. We offer the most professional-grade service, at the best value, with the best customer service. No project is too big or too small, so give us a call today!
Sidewalk Cleaning For Safer Walking Paths
CK1 Pressure Washing is the sidewalk cleaning specialist you can rely on for first-class pressure washing services for your home or business in the McDonough area!
If your sidewalks and walking paths are covered in slick algae, slimy grime, and dirty stains, the sidewalk cleaning pros at CK1 Pressure Washing are here to help. We use professional-grade pressure washing equipment, and environmentally-safe cleaning products, and we have the expertise to tackle your toughest dirty sidewalks and give them a revitalized freshness.
If you need sidewalk cleaning for your home, walkway washing for your workspace, or want to provide pristine pathways for your business clients, CK1 Pressure Washing has a service to meet your needs. Use our easy online request form to schedule sidewalk cleaning for your home or business in the McDonough area, or call us today at 404-787-8833 to speak to one of our courteous scheduling specialists.
Walking Path Washing To Restore Your Property
If you notice that your sidewalks need some attention, there's no better time to schedule a pressure washing service. Our professional team at CK1 Pressure Washing will get the job done right the first time. Our certified technicians look forward to working every day so they can tackle new pressure washing challenges. We enjoy seeing the amazing results of our efforts and your big smiles after you see how great your sidewalks can look after a pressure washing treatment.
First, we brush away dirt and debris from your sidewalk. We want our chemicals and water to reach the concrete directly with no obstacles. We also ask you to remove all loose items like decor, yard items, and potted plants. It's important that you park any cars away from the sidewalk where our team is cleaning.
If you have in-ground plants and flowers, we can cover them with plastic. This prevents damage from our cleaners and the strong water pressure. Keep in mind that cleaners and water spray from our machines can transfer to nearby objects. Before we start your pressure washing treatment, we apply a specialized cleaning solution. Then it sets for at least five to ten minutes to loosen dirt and mildew. After that, we use strong water pressure to rinse away the dirt.
Services We Offer Aside From McDonough Sidewalk Cleaning
Building Washing
Commercial Pressure Washing
Deck Cleaning
Driveway Washing
Fence Washing
Graffiti Removal
Gutter Brightening
Gutter Cleaning
House Washing
Residential Pressure Washing
Roof Cleaning
Sidewalk Cleaning
Storefront Cleaning
Frequently Asked Sidewalk Cleaning Questions
Pressure washing and sidewalk cleaning require the use of specialized equipment that can be dangerous if used improperly. If you do not have the proper training and experience, attempting to pressure wash a sidewalk can lead to serious injury. In addition, if you do not have the right equipment, the results may not be as effective as those achieved by a professional pressure washer. For safety and optimal results, it is best to hire a professional sidewalk cleaning company.
When done correctly, pressure washing your sidewalk is relatively safe. However, there are potential risks associated with pressure washing. If too much pressure is used, it can cause damage to the sidewalk and the surrounding area. It is also important to use the right pressure and the right cleaning solutions to ensure the best results. Our experienced technicians are trained to use the right pressure and the right cleaning solutions to ensure the best results and the safety of your sidewalk.
It is recommended to pressure wash your sidewalk at least once a year. This will help to keep your sidewalk looking great and help to protect it from the elements. Pressure washing can also help to prevent dirt, dust, pollen, grime, oil and other unwanted particles from accumulating on your sidewalk. Contact us today to learn more about our pressure washing services and how they can help keep your sidewalk looking great and lasting longer.
It is best to have your sidewalk professionally cleaned at least once a year. This will help ensure that dirt, grime, and other debris don't accumulate and cause damage to your sidewalk. In addition, regular pressure washing can help keep your sidewalk looking great and can even help prevent the growth of mold and mildew. Contact us today to learn more about our professional pressure washing services and how they can help keep your sidewalk clean and looking great.
WE WANT TO EARN YOUR TRUST. CALL YOUR MCDONOUGH PRESSURE WASHING PROS TODAY