CK1 Pressure Washing Has Lithonia's Best Pressure Washing Services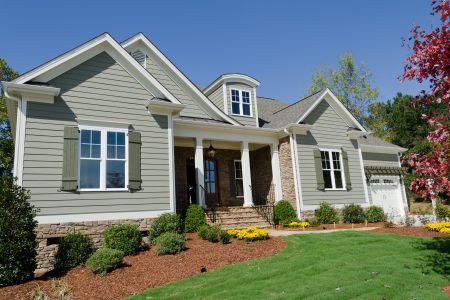 Pressure washing from CK1 Pressure Washing is the way to go if your Lithonia home is in need of a revitalizing cleaning service. If your exterior surfaces have a layer of dirt or grime on them, it does more than just cause unsightly stains and discoloration. These things can also do harmful damage to your exterior surfaces and create an unsafe living space for you and your loved ones. Our skilled pressure washing technicians can remove that unsightly grime to give your exterior services a brand new look. Has your patio or deck been looking a little worse for wear? Is your concrete driveway turning brown with oil and grease stains? These exterior surfaces, if pressure washed and maintained properly, can add a lot to your Lithonia property, so let us do what we can to ensure that they stay to do their job.
Choose The Best Pressure Washing Pros In Lithonia
CK1 Pressure Washing is committed to supplying exceptional pressure washing services to the Lithonia area. We can clean your residential and commercial properties to rid them of any dirt, mold, bacteria, or other substances that could damage your home and create an unsafe environment for your family.
Having your exterior surfaces cleaned professionally is key in extending the lifespan of your home or business structure. Contrary to what many might say, pressure washing is not a task that you should do yourself. It can be extremely dangerous, especially to people with no experience or skill. To ensure your own safety and the integrity of your property, leave the pressure washing to the trained professionals at CK1 Pressure Washing. We promise you'll love the results!
CK1 Pressure Washing Offers Superior Roof Cleaning in Lithonia
The property value of your Lithonia home is a giant plus in case you ever want to sell it. You won't have to spend too much money to enhance your home if you take care of the things you already have. That's why CK1 Pressure Washing suggests getting roof cleaning services regularly. This kind of cleaning can take your home from alright to spectacular in less than a day. Putting your rooftop in the hands of the experts is more likely to increase the curb appeal of your entire property than if you were to do it yourself. The risk of roof cleaning on your own also puts you at risk for personal injury. CK1 Pressure Washing is here to help and to give your home the roof cleaning services it needs.
Areas We Service Aside From Atlanta, GA
The professionals at CK1 Pressure Washing help provide superior services in the greater Atlanta, GA area, providing expert pressure washing service to property owners in...
Atlanta, GA
College Park, GA
Conyers, GA
Covington, GA
Decatur, GA
East Point, GA
Ellenwood, GA
Hampton, GA
Jackson, GA
Jonesboro, GA
Lithonia, GA
Locust Grove, GA
McDonough, GA
Rex, GA
Riverdale, GA
Stockbridge, GA
About Lithonia, GA
Lithonia, GA is a bustling city located in the south-east of Atlanta that offers a variety of amenities and outdoor activities. With its great public transportation system, many locals find it easy to get around the city.
WE WANT TO EARN YOUR TRUST. CALL YOUR MCDONOUGH PRESSURE WASHING PROS TODAY